SNAP® Integrated Development Environment In Action
SNAP's flexible integrated development environment can be leveraged to build decision support and real-time data monitoring applications that can be used in a broad range of domains. For the last ten years,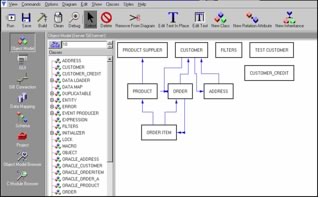 fortune 50 companies in industries as diverse as finance and transportation have looked to SNAP as the platform for distributed, peer-to-peer decision support applications.
To help illustrate the flexibility that this platform provides, we've put together a series of short case studies using three very different scenarios.
---
Electronic Document Management
A growing service provider with a focus on prompt customer service needs an electronic document management system to control customer service requests and general correspondence. A system powered by SNAP can be built to:
Interface with external systems, including email, e-forms and existing customer data bases
Automate the receipt, process and distribution of incoming requests
Apply custom business workflow to distribute notifications and electronic documents to dispersed employees or functional areas.
Schedule automated follow up correspondence
Provide a warehouse where electronic documents can be stored and retrieved
Result: A document management system that automates your organization's optimized workflow to support fast and informed customer service responses.
---
Real-Time Traffic Management
A national railway company with dispatchers managing the transportation of millions of travelers and cargo per year needs a flexible solution that offers real-time traffic monitoring and operational decision support. A system powered by SNAP can be built to:
Interface with external systems, including GPS, radio and ticketing systems.
Provide real-time graphical displays to show current and projected train routes
Generate alerts for any delays or problematic changes in the physical infrastructure
Enable immediate analysis and response to delays and provide automated notification and distribution of traffic management changes
Analyze traffic patterns over specific time frames to support operational changes that aim to improve future service

Result: A traffic management system that offers real-time control with the decision support tools to continuously improve operational performance
---
Product Management and Distribution
A wholesaler who manages the purchase orders and distribution of products to locations around the globe needs a decision support system to link incoming orders with distribution options to maximize on-time delivery and transportation costs. A system powered by SNAP can be built to:
Interface with existing data bases, including electronic orders, customer data bases, inventories and distribution costs
Create a distributed workflow system which supports the functions of order entry and tracking, logistics planning, distribution, inventory equipment, invoicing and accounts receivable
Isolate and track the life-cycle of an order from it's receipt into the system to it's delivery and final invoice
Run reports on historical data to support business and operational decisions that aim to improve efficiency and cost management

Result: An integrated system that provides critical insight, analysis and decision support for the wholesaler's life-cycle management of an order.