RPlan® Collaborative Project Management Software Suite
RPlan is an innovative project management software suite that uses a superior communication design to improve planning, managing, and reporting for multiple projects across the enterprise. RPlan helps you achieve the three most common business goals: saving money, making money, and improving processes.
RPlan is fully integrated with SNAP I2M for organizing, analyzing and acting on external data.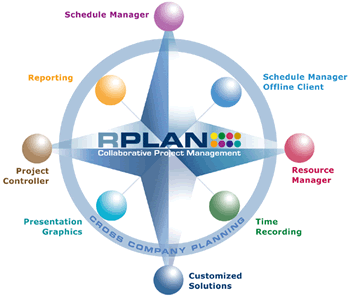 Key Benefits
Flexible, Scalable and Customizable
RPlan enjoys high executive-level acceptance because it allows real-time access to information, which can be customized to the appropriate level of detail (macro or micro) and delivered in a standard reporting format across all participants.
Most project management tools are designed with the single user or small work group in mind, not the multinational or global organization. The Internet has changed the world. The complexities of managing businesses in a global society have increased geometrically.
Improve Time to Market
All projects — from IT to product design to setting up a new manufacturing facility — have similar goals. The focus is typically time to market, speed of execution, and operational efficiency. It is imperative that standards are in place so each team member and stakeholder can work together toward the same successful result. Project data must be easily accessible and must be current. Getting the people impacted by the project commitments actively involved in up-front planning will help increase user acceptance and improve the chance of a successful project.
Real Time Project Collaboration
At any point in time, RPlan supplies the most current project data, supports the active participation of all project team members, and encourages collaboration. It also offers management the possibility of flexible analysis of partial projects or multiple projects. RPlan promotes increased participation, efficient resource management, and elimination of wasted project costs.
Cross Company Planning
CCP simply and securely incorporates your partners - manufacturer and supplier - into the planning process through secure exchange of data, thus cutting development time and costs.
The RPlan suite of enterprise project management tools, provides a breakthrough solution to the innovation gap!