Automotive / Manufacturing Industries
Template Software has extensive experience serving the automotive and manufacturing industries. Our flagship product, SNAP® I2M, was orginally developed to help automotive manufacturers make better use of the data they already by organizing it and automating schedule development and integration for major product programs. And it doesn't stop there. Creating schedules is only one of many uses of our SNAP Product Family including SNAP
I2M.
SNAP I2M Can Bring Data Together
Template Software can work with you to understand where your data disconnects are and
we can help you use SNAP I2M to fill the white space between key systems.
How Does It Work?
You currently manage your multi-year product portfolio in your Portfolio Planning System. Engineering sub-systems and related data are managed in one or more Product Data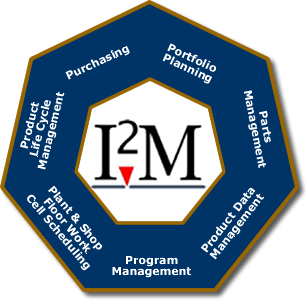 Management Systems and you manage parts and product releases in your Part Management System.
Every day engineers and program managers rely on manually correlating the data or reviewing reports that manage to partially organize program data.
Using SNAP I2M you can pull together data from each of these systems and, using our powerful rule engine, create data relationships to produce structured views of all your programs, engineering sub-systems and parts. Visually drill up or down the hierarchy to get a view of your existing program data unavailable anywhere else in your organization.
Of course, once you've organized your data, you'll find new ways to extend the data structure by including more of your key data systems.
Create Work Products in Your Key Applications with SNAP I2M
Using SNAP I2M with your key systems doesn't have to be a one way street. Leverage the organized data to make decisions about what type of work products you need in other systems. For example, like most companies you probably manage an important work product, schedules, at multiple levels:
Program Plans
Functional Plans
Sub-System Plans
Tooling Schedules
Part Schedules
Plant Floor Work Cell Schedules
With SNAP I2M you've already drawn and organized data from your Portfolio, PDM and Part Management Systems and, again using our powerful SNAP I2M Rule Engine, you can use this data to create schedules in your Program Management System, ensuring that you have the right schedules for all levels of your program content, using consistent schedule templates and reducing work load.
You can even tie in your PLM and Purchasing Systems to tie vendor PO's to work completed and reuse existing equipment.
Create an Open Program Management Environment using SNAP I2M and RPlan®
Don't have an integrated Program Management environment?
SNAP I2M is integrated "out-of-the-box" with RPlan® for a robust and flexible PM environment that can draw data from multiple system, automate repetitive activity and encourage collaboration at all schedule levels.