4 Steps to Effective SNAP® I2M Configuration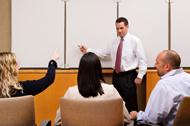 SNAP I2M can be a powerful addition to your team, and Template Software has the experience and the expertise to make sure that your deployment gets you results.
We've developed a 4 phase methodology designed to get at all the important details of your process and your organization. At every step of the process we'll provide you with concrete deliverables so you'll always know where you stand.
Familiarization
Our Familiarization Phase is a two way process where we review our software capabilities and get to know your current-state processes. We begin the phase with a kick-off meeting for introductions and to review the configuration process and time commitments.
The focus of the Familiarization Phase is on introducing your key users and Subject Matter Experts (SME) to our general out-of-the-box software capabilities along with a brief discussion of configuration capabilities. We then follow up with each SME and spend time with them in their own working environment. We use this time to help us understand work flow processes, data integration points, and communication processes. At the end, we document what we've learned to ensure that we understood it correctly and also to identify any areas for follow up discussions.

Evaluation
In the Evaluation Phase we consider future process requirements and develop 'concept' alternatives, complete with live mock-ups or screenshots for each SME to review. During this time we would also evaluate how information needs to be organized to support the various users, evaluate the data integration requirements and begin a gap analysis to compare your concept to the software capabilities. As in the Familiarization Phase, the Evaluation Phase includes detailed documentation of the selected concept alternative and gaps. The documentation is necessary to ensure that everyone understands the concept and is also critical to successfully complete the next phase.
Configuration
In this phase we formally document the configuration requirements based on the documented concepts and mock-ups from the Evaluation Phase. This includes the automation requirements, user roles, custom attributes, integration rules, data staging requirements and any configuration change requests that have been identified for submission to your local Change Review Board (CRB). As with the other phases, the configuration requirements are documented in detail and the final Configuration Document incorporates the material produced in the first two phases to provide a comprehensive guide to the product environment.
Go-Live
The Go-Live Phase focuses on preparing the various business units for deploying the software in support of new and existing programs. Key activities include pilot preparation, SME training (as required), and finalizing the production environment with the configuration changes as described in the previous phase. As always, documentation is key and this phase ends with detail pilot scripts and lessons learned documents.
On-Going Support
As your organization matures or additional business units come on board, our process is repeatable to ensure that any new business process or business unit can be considered against the existing configuration environment. Instructor led training sessions and user coaching sessions are also available from our trained staff.